Ms. Papot's Inspiration Station
Here are links to things that I've found interesting or inspiring lately. If you've found something inspiring that you'd like to share with other IB students, please email me a link and I will happily add it to this page.
Papot on Instagram 
Papot on Pinterest     
Tumblr entries tagged "art" 
Where did the oil go?
This stop-motion film uses painting and drawing to tell the story of the Deep Water Horizon Oil Spill. Click here
Art Magazines
Here are some of my favorite art magazines, many of which I follow on Facebook for a daily dose of inspiration:
Click here to follow Juxtapoz on Facebook
Click here to follow Hi-Fructose on Facebook
Click here to follow Art in America on Facebook
The Art of Negative Space

Malaysian artist Tang Yau Hoong's illustrations cleverly plan with negative space and perspective, giving them a sense of tension and playfulness.
http://www.fubiz.net/en/2013/06/11/the-art-of-negative-space/
and  http://tangyauhoong.com/portfolio/the-art-of-negative-space/
Yinka Shonibare's fusion of African textiles and Victorian-era fashion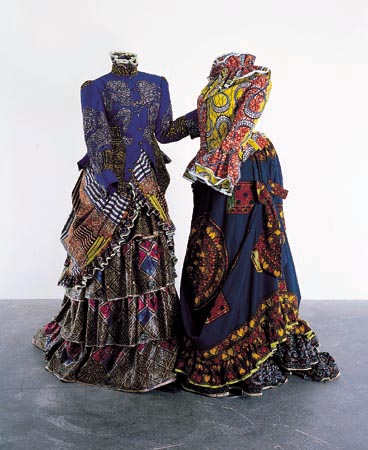 Read more about the cultural associations of Shonibare's work here.
Kimika Hara
Kimika Hara is an artist based in Kyoto, Japan, who creates texture-rich illustrations with embroidery. If you closely, you will notice the variety of embroidery stitching techniques, sometimes layered upon textiles or with beads, that are used to create her playful, saturated works.  http://illustrationfriday.com/2013/06/artist-kimika-hara/ 
Andrea Dezso
Dezso's website includes an impressive array of sketchbook entries, embroidery, mosaics, animations, drawings, book arts and more. I feel inspired by Dezso because she works in so many different media, with such different approaches. Looking at her body of work reminds me that it's okay to explode into a variety of media and ideas that are interesting, that I don't need to fit myself into one neat little box of expression.
http://andreadezso.com/BOOKS_Sketchbook10.html
Works by Nosego & Curiot
Suggested by Kerem and Dilge. As you read the analysis on the website, make sure to look up the terms "iconoclasm"/"iconoclast." How do these terms apply to this body of artwork?
http://thinkspacegallery.com/shows/2013-12/
Illosizzle
Artwork by Dwayne Bell: http://illosizzle.com/illustrators/dwayne-bell 
Muammer Bey just showed me this website full of beautiful graphic illustrations. This type of artwork can be created with Adobe Illustrator, a program we have at school.
How to Draw & Paint Faster

While in an ideal world, we would never have to rush our creative processes, artists and students alike have deadlines to meet.  L4 students know how hard it can be to finish those last studio pieces before the examination. Here are 15 Tips for High School Students (with inspiring examples.)
20 Creative Sketchbook Examples for High School Students
20 Creative examples, including some very strong work from other IB students.
Ife Sculptures from Ancient Nigeria
I am always impressed by the technical superiority and beauty of Ife portrait sculptures. I love how full and lively the faces are, sometimes with a hint of smile, and how they are sometimes enhanced with patterned lines and texture.
Here is an article that acknowledges  how, because of racist stereotypes, when these beautiful terra cotta and brass sculptures were found by Western explorers a century  ago, people "did not believe that the masterpieces … could have been the work of Africans." This article also speculates about the history and function of these magnificent head sculptures.
Hyperrealistic Sculptures by Ron Mueck
While Mueck's hyperrealistic style is not likely to emerge in my own studio work, I am always moved by the expressiveness of his sculptures, and how they most often seem convey a sense of weariness, mistrust or anxiety through their facial expressions. Mueck's figures often seem so solitary to me, as if they are caught in an intimate moment of deep thought, having lost their self-conscious awareness of the world around them.
Ai Weiwei
Ai Weiwei's best-known works include those where he has taken Han dynasty pottery (circa 5000 – 3000 BC) and painted or dropped the ancient objects to make a new statement. Ai Weiwei's work explores issues of globalization, consumption, and the destruction of Chinese culture in the pursuit of wealth.
This article shows and discusses some of the Chinese Han Dynasty cases modified by Ai Weiwei.
Another article includes a video interview with Ai WeiWei.
Observation drawings by famed author Sylvia Plath
 http://www.brainpickings.org/index.php/2013/11/06/sylvia-plath-drawings-2/
Plath uses various types of line to create texture on cows, houses and other objects. I'm particularly drawn to the delicate ink washes she applied on the observation drawing of houses above.
Frida Kahlo
The Life and Times of Frida Kahlo includes a good overview of Frida's life and artwork.
Frida is always close to my heart, especially because there are so many layers of tragedy behind her artwork. Between the bus accident, repeated miscarriages, her husband's infidelities, and lifelong debilitating pain, Frida's life was drenched in misfortune. Her paintings are so strange, sometimes uncomfortably intimate, and completely unlike any other painter from that time.
Monster Textures and Forms by Don Lanning
https://www.youtube.com/watch?v=fqGqnUgFjkI&noredirect=1
Notice how he uses both additive and subtractive techniques for carving with clay.
Tibetan Sand Mandalas


This video takes you through the creation of a painstaking work of art which is ritualistically destroyed once it is completed.
Islamic patterns and designs
Such as those found in this 15th century "pierced screen" from India:
http://www.metmuseum.org/toah/works-of-art/1993.67.2